Author:
PepperJess
Editing photos this morning, and I liked the TV shot background of these two pics. Plus, I kind of wanted to show off my terrific new water bottle that does not match my "Free Spirit" vintage bike, but I love it just the same.
Hello and happy weekend before turkey day. No special reason for this Arnold banner image, just that I like a good list.
♠ Mike Rowe says don't follow your passion. Okay I'll bite.
♠ Dan Brooks is becoming a regular link-to, with all his great essays. This one about punk rock decay is no exception.
♠ The Disease of Being Busy. I love that the author breaks apart the word, because it really is coming to the point of dis-ease.
♠ Isn't it a treat when inexpensive things work just as well as the most expensive? My favorite is cocoa butter and now, Trader Joe's Spaghetti.
♠ The world needs more glow-in-the-dark bike paths.
♠ 'The most efficient way to spend money on the homeless might be to give it to them.'
♠ Do you have a favorite photo? How long could you look at, and be mindful of, a photo? Erin Mystkowski is a multimedia editor at the Chicago Tribune. She really loves vintage crime photos — and one in particular from 1924. Listen to the story, and you can also write in and share about a photo YOU love.
♠ Felt kind of random reading this on Business Insider , but that doesn't make it a less interesting read. Two traits that a relationship needs most of all.
♠ Andrew WK not only has the best PARTY TIPS ( "shove a cupcake into your body."), but the answers he offers every week at the Village Voice are insightful and just plain great.
It's natural for us to encounter moments which challenge us. Having the capacity to question our most deeply held opinions is not a sign of weakness, it's a sign of strength. Especially when we have the composure to resist our immediate emotional reactions and let our common sense lead us toward a more dignified type of contemplation. Keeping an open mind and an open heart requires an incredible amount of determined effort…"
"I've known women who plodded through life…but the women I knew did their plodding on the pavement, not the soil. I know very little about the simple life. I'm a product of crowded places and jammed-up emotions, where right and wrong weren't always clearly defined and life wasn't always sweet, but it was life." —Barbara Stanwyck
I thought I would formally welcome you to the last couple weeks of Noirvember with a quote from one of my favorite noir ladies, Barbara Stanwyck. For the same reason I love bitter chocolate and black coffee and stale cigarette smoke alleyways, I love film noir.
I kicked off the month watching The File on Thelma Jordan, starring the above femme fatale. I have made it few only a few new ones (Night in the City, You Only Live Once), and several old ones (Detour, Kansa City Confidential), before this month got a little busy. But I like to carry noir with me all year long, so I make no qualms about Noir Christmas/New Years, et al.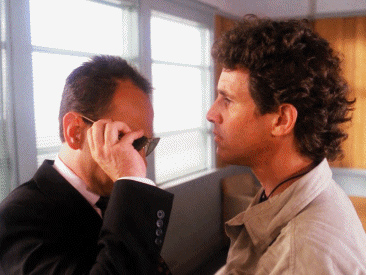 "You listen to me. While I will admit to a certain cynicism, the fact is that I am a naysayer and hatchet-man in the fight against violence. I pride myself in taking a punch and I'll gladly take another because I choose to live my life in the company of Gandhi and King. My concerns are global. I reject absolutely: revenge, aggression and retaliation. The foundation of such a method… is love. I love you Sheriff Truman."
I am not-so-patiently waiting for the temperature to drop. While it is cool in the morning, it doesn't feel quite cool enough to through on my beloved Twin Peaks this time of year. Maybe by putting this quote out into the world, I can manifest some weather suitable for putting on my flannel, pulling the fish out of the percolator and wishing I lived in a cabin near Snoqualmie Falls.