Inspirational
"Three Rules of Work: Out of clutter find simplicity; From discord find harmony; In the middle of difficulty lies opportunity."
– Albert Einstein
From a hike up North Mountain, December 2014
"May your trails be crooked, winding, lonesome, dangerous, leading to the most amazing view. May your mountain rise into and above the clouds." -Edward Abbey
I have been racking my brain to write something out of all the retrospectives I have read at the end of the year, to start a new one. To write something that will sort of rally the troops as we all delve into this year together.
I came up short of anything thought-provoking, but thinking about it did make me write about some other stuff.
Most years start off easy, take everything at a relaxing pace, and most years end the same way. I have decided that for this year, I'm going to go hard into the paint, so to speak.
(Also, "hard into the paint" is my favorite, and only correctly used, sports metaphor, so please let me have it and don't judge me for using it too often.)
Sure, I might burn myself out. But I haven't felt that great burned out from being creative burn in a while. Having that feeling under my belt might open me up to even more adventures.
I love the idea of thinking about projects and experiments, rather than resolutions. I can resolve to send out inspirational postcards to pen pals once a month, if I think of it more as a happiness project. I can also experiment with a new habit if I think of it in terms of just one month, like Art of Manliness' 31-Day Journal prompts. I also might possibly need a little help in re-learning how to pay attention.
A little late, but some things to think about for the coming year in these New Year's Asks.
"I've known women who plodded through life…but the women I knew did their plodding on the pavement, not the soil. I know very little about the simple life. I'm a product of crowded places and jammed-up emotions, where right and wrong weren't always clearly defined and life wasn't always sweet, but it was life." —Barbara Stanwyck
I thought I would formally welcome you to the last couple weeks of Noirvember with a quote from one of my favorite noir ladies, Barbara Stanwyck. For the same reason I love bitter chocolate and black coffee and stale cigarette smoke alleyways, I love film noir.
I kicked off the month watching The File on Thelma Jordan, starring the above femme fatale. I have made it few only a few new ones (Night in the City, You Only Live Once), and several old ones (Detour, Kansa City Confidential), before this month got a little busy. But I like to carry noir with me all year long, so I make no qualms about Noir Christmas/New Years, et al.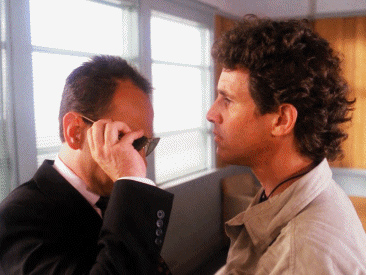 "You listen to me. While I will admit to a certain cynicism, the fact is that I am a naysayer and hatchet-man in the fight against violence. I pride myself in taking a punch and I'll gladly take another because I choose to live my life in the company of Gandhi and King. My concerns are global. I reject absolutely: revenge, aggression and retaliation. The foundation of such a method… is love. I love you Sheriff Truman."
I am not-so-patiently waiting for the temperature to drop. While it is cool in the morning, it doesn't feel quite cool enough to through on my beloved Twin Peaks this time of year. Maybe by putting this quote out into the world, I can manifest some weather suitable for putting on my flannel, pulling the fish out of the percolator and wishing I lived in a cabin near Snoqualmie Falls.
Happy Swayztember!
I will be celebrating by watching some of my favorites, and seeing if I have overlooked any of The Great Swayze's film library.
I fully love this. Not only is this gif great, but it goes with so many great songs. I have watched it while listening to:
♠ and of course, Party Up (Up in Here)